I read a wonderful book recently that was so simple, yet so useful. Its about getting the most out of life and Playing a Bigger Game, and no, its not my book 🙂 More on the book later.
Playing a bigger game is about getting on with life, about doing the things most people only dream of. It is making progress and moving forward and being able to look back on the years that go by (and don't they go by really fast!) without any regrets. It is knowing you have given it your best shot, leaving nothing in the tank, rolling from one year to the next going 'woohoo, what a hell of a ride!'
That is the bigger game. If you're not playing it you should be. If you haven't stepped into it, you simply have to. If you don't know what yours is then you must search for it. Why? This is the cruncher. If you don't you will live a life full of regrets. If only I had done this, tried that, gone there, spent more time with them etc etc.
I am sure, you are just like me and want to create a life with NO REGRETS!
Which brings me to the book – The Top 5 Regrets of the Dying by Bronnie Ware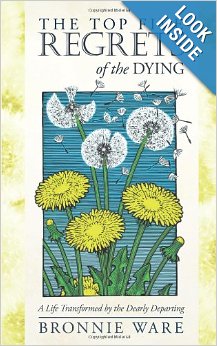 Bronnie spent years working in palliative care and listened to the dying wishes of those faced with their own mortality. The dying wishes she put into a fantastic book that essentially helps us to understand how to live a life with no regrets. It is a must read. Here are the 5 regrets
I wish I'd had the courage to live a life true to myself, not the life others expected of me. 
I wish I didn't work so hard. 
I wish I'd had the courage to express my feelings.
I wish I had stayed in touch with my friends. 
I wish that I had let myself be happier. 
I have pretty much got 2 of the 5 nailed, so there is some work to be done!
Plus I have a couple of others for you to consider that I hear all the time from the people that I work with across the globe.
I wish I hadn't let other people steal my dreams.
I wish I hadn't waited to live the life I always wanted.
So, what can you do this week to unravel some of the regrets that you might have? I know its going to take more than a week to sort some of the out, but at least you can make a start, I know I am!
Play BIGGER